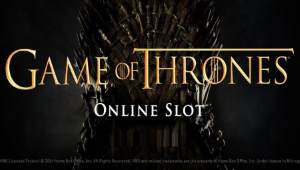 Microgaming are one of the biggest online slots developers around- with a big range of video slots including classics such as Immortal Romance, Thunderstruck II and Terminator 2.
They are pretty famous for their blockbuster licensed slots launches- one of the latest games to hit their line up is the Game of Thrones Slot (free play at gameofthronesslots.net).
This is based on the smash hit HBO series which in turn is based on the fantasy novels by George R. Martin.
There are 2 playing modes. You can choose to play it as a 243 Ways To Win game (like Thunderstruck 2 and Immortal Romance- in fact most of Microgaming's top end slots sit in this bracket) or you can play it as a standard 15-payline slot.
You can also have a choice on the free spin/multiplier combination when you hit the scatter feature (Chose from 8 spins at 5x to 18 spins). This all seems like Microgaming is giving you a way to set your risk level on this slot, (variance). Do you want smaller wins more often or bigger wins less often? Tweak the dials, and see if you can tweak the machine, seems to be the idea here.
It's all based on the TV series Games of Thrones, based on the best-selling book saga called "A Song of Ice and Fire," by George R.R. Martin (the first book is called "Game of Thrones").
This fantasy drama has made headlines with its brutal but clever plots telling the tales from the iron throne of Westeros. This fantasy epic should make a video slot masterpiece- that's what we're hoping for anyway!
Game of Thrones has a huge online following (there are plenty of video games based on the franchise too).
Game of Thrones season 4 hit UK screens on Sky Atlantic in April 2014.